Victor Andrade
---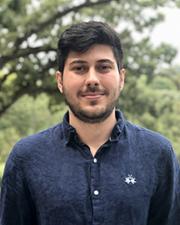 Graduate Teaching Assistant
Biography
—
I am an Economics Ph.D. student from Brazil. I earned my B.B.A. in Economics from the University of North Florida and have been a Graduate Teaching Assistant at KU since 2019.
Education
—
B.B.A. in Economics, University of North Florida
M.A. in Economics, University of Kansas, 2019
Research
—
Sports Economics
Health Economics
Applied Microeconomics
Teaching
—
ECON 104  Introductory Economics
Office Hours
Tuesday/Thursday: 1–2 p.m.
Wednesday: 11 a.m.–noon
or by appointment
Past teaching experience:
ECON 609 - Sports Economics. Lead instructor.
ECON 144 - Principles of Macroeconomics. GTA.
ECON 142 - Principles of Microeconomics. GTA.
Service
—
In addition to being a PhD student and Graduate Teaching Assistant, I am a Graduate Student Representative and the Vice President of the Brazilian Student Association at KU (BRASA).